PRESENTATION

Since the birth of our baby and resuming our respective jobs, Clémentine and I needed wild landscapes, clean air and calm. So I asked my best friend – a travel addict – to direct me to a destination that met our criterias. Instantly, he advised me "The Cathar Hills", an area in the northwest of the department of Aude. He particularly praised its beauty and tranquility!
Thanks to the site www.collinescathares.com, I was able to easily prepare our romantic getaway!
01 highlight
First night in Aude à la Cabane

5.30 p.m
One Friday at the end of the afternoon, we entrust our toddler to his nanny and leave the tumult of Toulouse… Head for these famous Cathar hills!
In barely an hour, we arrive at the place of our reservation, in Montreal. Exit the routine / monotony of everyday life; I reserved a very original accommodation for us: a cabin nestled in the trees!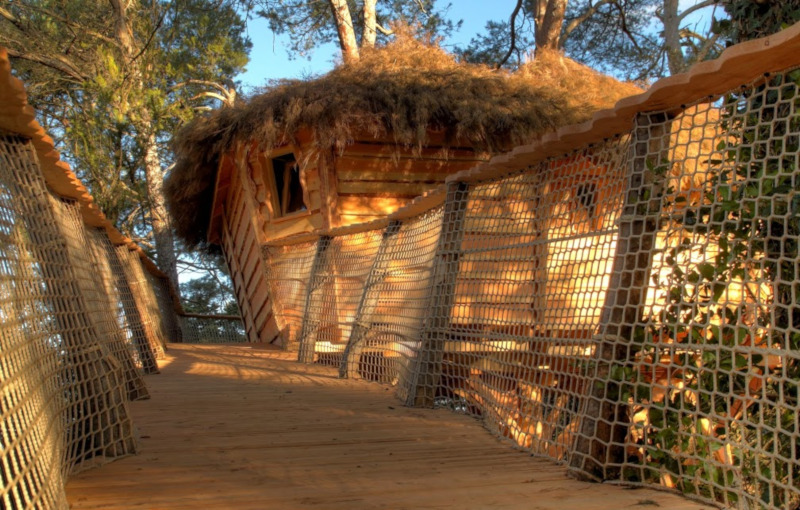 The owners, Mr and Mrs Saint Amans, welcome us warmly and present us "the Lilou hut", where we will spend 2 nights. What a magnificent love nest!
This hut with a heather roof is built with respect for the trees that welcome it. With a large terrace and located a few meters from the ground, it also offers a beautiful view of the hills of Malepère.
To our greatest happiness, we find inside all the necessary comfort to share unique moments (a double bed, electricity, a bathroom, etc.). In the early morning, after having spent a soothing first night, what a pleasant surprise to discover a gourmet basket placed by our hosts on the terrace table! A great way to start our day!
02 Highlight
Canal du Midi Stroll.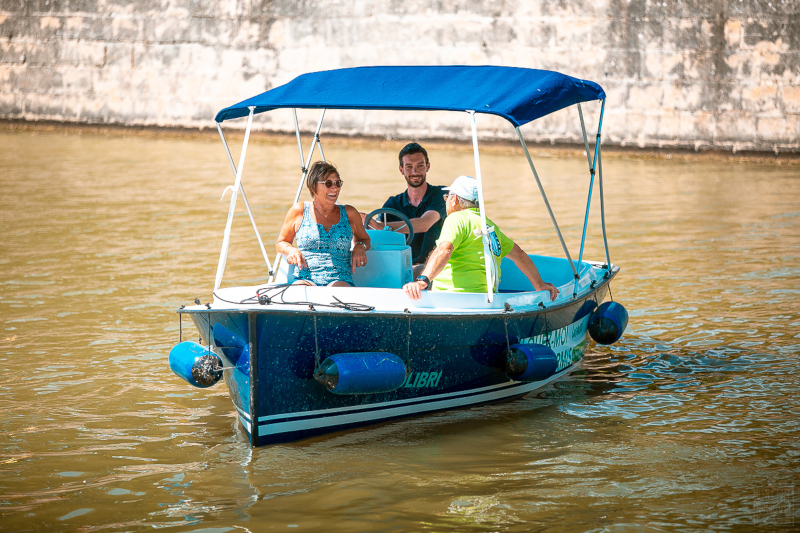 10.00 a.m
We are therefore satisfied that we arrive at the Canal du Midi, in the port of Bram.
I took care to book an electric boat without a license for 2 hours beforehand with Locaboat Holidays *. We have long dreamed of living a special moment for two, traveling a portion of the mythical Canal.
We therefore set off in the midst of the majestic bicentennial plane trees. To the rhythm of the water, sumptuous landscapes are offered to us … fields of wheat and sunflowers, towpaths, lock houses … A real poetic stroll! To do at least once in your life.
03 highlight
Guinguette restaurant l'Île aux oiseaux

12.00
We moor our boat and then we go to the restaurant L'île aux oiseaux, which adjoins the port. We are greeted by the owners who install us on their sublime terrace.
On our plates, throughout lunch: fresh, quality and seasonal products! Refined and tasty cuisine! Congratulations to the chef! I highly recommend this restaurant with its unique setting.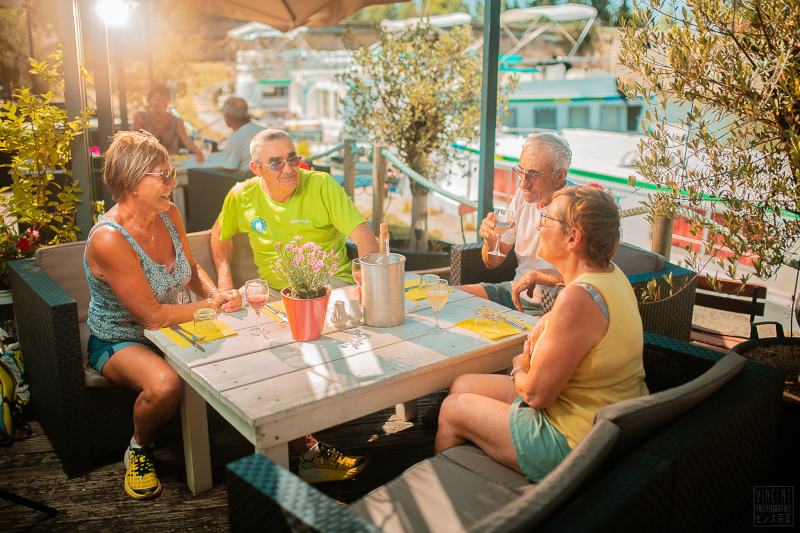 04 Highlight
Cocoon institut in Bram

2.00 p.m
After this delicious meal, Clémentine and I join the Bram center.
To make the most of her stay, I reserved a "well-being moment" for her at the Cocoon Institut! Facial treatments, body treatments, beauty treatments and polysensory SPA … I can tell she is going to have a great time there!
During this time, I am going to explore the historic center of Bram. What a pleasure to discover this magnificent circular village. From the Saint-Julien-et-Basilisse church to the Claude Nougaro market halls, passing through a labyrinth of alleys, I let myself be transported by "the heritage trail" … A nice surprise; I advise !
It is 6 p.m. when I join Clémentine. Fatigue begins to be felt. So we return to Montreal to find our cabin, for an unforgettable second night!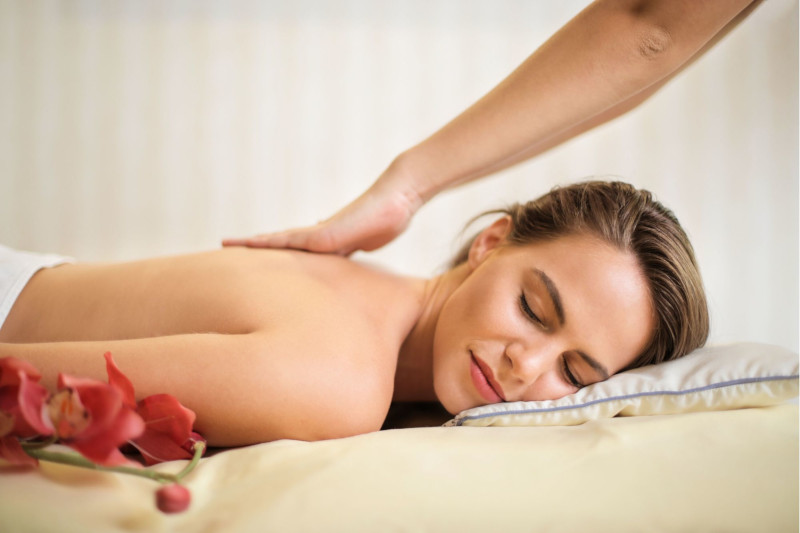 Botanical Trail in Montréal
The next morning, after eating a second hearty breakfast, we decide to put on our sports clothes and hiking boots.
On the advice of our hosts, we download the mobile application to discover local routes: Au coeur des Collines Cathares. And off we go for a hike in the heart of Malepère. From the sheepfold of the Bois du Chapitre to the Saut-Cani petrified waterfall, we follow the steps of an interpretive trail where trees and flowers reveal their secrets to us … An easy and pleasant walk (1h30, drop 60m)!
It is time for us to return to Toulouse… invigorated by this romantic-sporting getaway!
DISCOVERING SURROUNDINGS

Collegiate church in Montréal :
Ideally located at the highest point of the hill that hosts the village of Montreal, the Saint-Vincent collegiate church is visible from afar. Built in a context of Catholic reconquest after the turbulent episodes linked to the Crusade against the Albigensians, its imposing proportions were to allow the Roman Catholic Church to once again establish its authority in a land steeped in the Cathar ideology. In its current form, the church is quite representative of Languedoc Gothic art and today houses a Grand Organ which is still in restoration.
Virtual tour of the village and its collegiate church: GO!
Oenology workshops at Domaine Le Fort in Montreal:
At Domaine Le Fort, a stone's throw from the Canal du Midi and the Saint-Vincent collegiate church in Montreal, embark on an unforgettable sensory journey! Live an extraordinary olfactory and taste experience by participating in the oenology workshops led by Stéphanie Fargues. In addition to improving your tasting skills, you will gain a better understanding of the world of wine, from its development to its consumption.
Treat your taste buds and spend a friendly moment in the heart of the La Malepère terroir : GO!
OTHER GOOD PLACES NEARBY

Guest houses in Montréal :
Domaine de Gach +33 (0)4 68 76 24 04 / contact@domainedegach.com 
La résidence de Gérard +33 (0)4 03 34 64 04 / marcbrans_6@hotmail.com
Domaine Caraman  +33 (0)4 68 76 31 33 / info@domainecaraman.com
Camellas Lloret +33 (0)6 84 60 73 34
La Belle Vie de Flo +33 (0)4 68 25 44 25 / labelleviedeflo@orange.fr
Crafts :
Ebéniste M Jelonek (Montréal d'Aude) : www.en-bois.com
Maréchal-Ferrant (La Force): +33 (0)6 40 70 69 11 / brad.leejones@hotmail.com